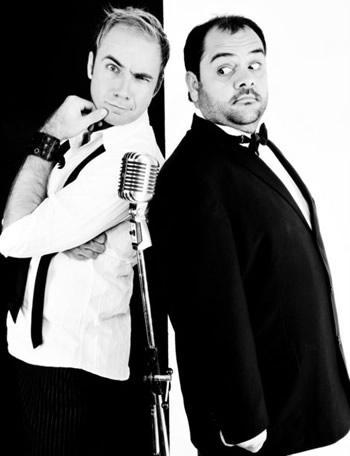 Jakkals & Leo is 'n vertoning met 'n gesonde mengsel van opwindende klassieke liedjies en bekende Afrikaanse popliedjies en alles tussenin.
Jakkie Louw en Kevin Leo is van afsonderlike pole van die Afrikaanse musiekwêreld en ontdek mekaar se style deur hulle gemeenskaplike liefde vir opwindende musiek.
Die kombinasie van Jakkie se rasper stem en Kevin se afgeronde tenoorstem, het mense gaande. Hierdie produksie is die eerste van sy soort en het gehore regoor Suid-Afrika op hul voete gehad. Kevin Leo se humor is so uniek en skerp dat jy later skater van die lag.
Liedjies wat hulle doen in die vertoning sluit in Voshaarnooi, O'sole'mio (soos Pavarotti en Brian Adams hom gedoen het) Frank Sinatra, 'n bietjie Elvis Prestly, 'n Bietjie Lucas Maree en 'n bietjie Pikkewyne.
Dis 'n goeie show. Enige dag van die week.
Bookings essential
If you have any inquiries regarding the shows, don't hesitate to email or phone us.
Skakel of mail ons gerus oor alle show navrae.
Tel. : 042 293 2500
E-mail : bookings@pottersplace.co.za
Fees : R 120.00 p.p.
Event Categories: Events.