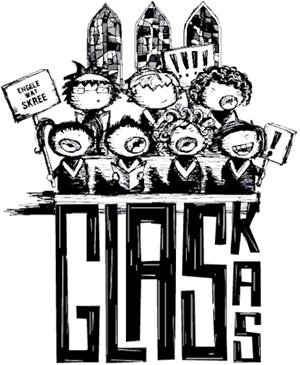 Tyd: 18:30 vir 20:00;
Kaartjies: R80 pp;
Glaskas is definitief verslaaf aan live optredes en is voortdurend op toer. "One klein dorpie at a time" die hele land deur!Sedert Glaskas se dvd "Verloor Myself" 3 jaar gelede vir 13 weke die nommer een op MK was, het die groep begin om die jeug te vermaak. Deesdae bestaan die band uit Deon Meiring (Frontman), Chris van Dyk en Lolke-Louis Claassen. Hul tweede album, "Engele wat skree" se "Meneer" en "Golflengte Verkeerdom" is reeds bekend.
Hulle optrede by Potter's in Desember 2010 was 'n histeriese sell-out. Hier kom hulle weer!
Bookings essential
Contact Callie or Melissa / Kontak Callie of Melissa.
Skakel of mail ons gerus oor alle show navrae.
Tel. : 042 293 2500
E-mail : bookings@pottersplace.co.za
Adres / Address :
Hoek van Oosterland & St Francis Straat, Jeffreysbaai
Corner of Oosterland & St Francis Street, Jeffreys Bay
Fees : R80 pp
Event Categories: Events.