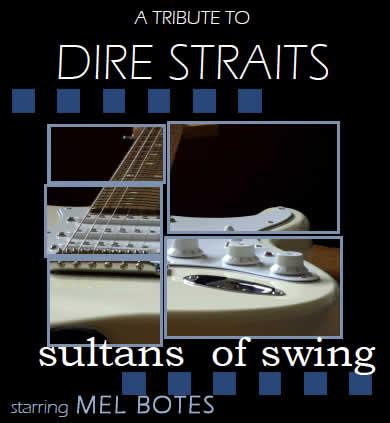 Now, by popular demand, Mel Botes is presenting the next chapter in this remarkable series of stage productions with the long awaited "Sultans of Swing" – A Tribute to DIRE STRAITS.
Time: 18:30 for 20:00;
Ticket price: R120 pp;
Starring MEL BOTES
Featuring MD GREYLING, SIMON ORANGE, BARRY STEENKAMP & THEUNS BOTHA
Produced by MEL BOTES & MELLET MOLL
For the past three years, multi-talented musician and master guitarist Mel Botes, has tantalized audiences all over the country with his critically acclaimed musical performance, Crazy Diamond – A Tribute to PINK FLOYD. Audiences and critics agreed that he mastered the complexity and density of the Floyd in a way that none of the other tribute shows have achieved. He then followed this with David's Confession, About Time, Chapter II, an original composition of his own (dating back to 1998), featuring various other acclaimed musicians with him.
Featuring the same pin point accuracy in his playing, the same acclaimed band and the same delightful Botes touch, this show promises everything audiences have come to expect from the virtuoso, including his own special touch. Like in the case of his previous shows, this show features an overview of the complete anthology of the band and it's enigmatic front man, Mark Knopfler. The title is derived from their definitive song with the same name, which has of course become a standard in serious guitar playing repertoire.
Bookings essential
Contact Callie or Melissa / Kontak Callie of Melissa.
Skakel of mail ons gerus oor alle show navrae.
Tel. : 042 293 2500
E-mail : bookings@pottersplace.co.za
Adres / Address :
Hoek van Oosterland & St Francis Straat, Jeffreysbaai
Corner of Oosterland & St Francis Street, Jeffreys Bay
Fees : R120 pp
Event Categories: Events.