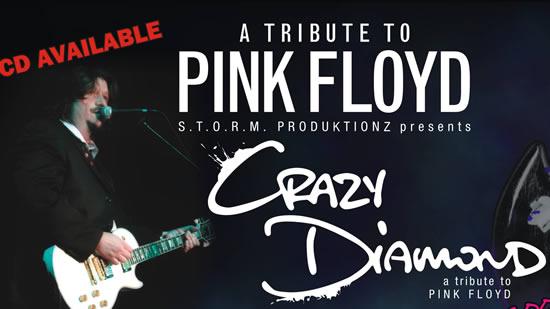 One of the most extraordinary stories of rock music is that of Roger Keith Barrett, or Sydto his friends, who died on the 7th of July 2006, after being a recluse for over 30 years… Syd had played with the worlds' most successful rock band for only the first two of the more than 40 years that they have enjoyed at the top of their game, yet his influence permeates their work.
It all started in the early sixties, when a group of friends from Cambridge, were playing blues covers, with extended instrumental improvisations with a jazz influence in various forms. When they found themselves booked on a gig where there was another band called"Tea Set", Roger Waters, Rick Wright, Nick Mason, Bob Klose and Syd Barrett needed another name fast; by juxtaposing the first names of two blues musicians mentioned in a sleeve note by Paul Oliver on blind boy fuller's country blues album, Syd came up with "The Pink Floyd Sound".
"Pink Floyd" soon became a favourite in the underground movement in London, playing what was to become known as psychedelic and avant-garde rock music. After Barrett left the band and was replaced by David Gilmour, they developed their distinct sound into a form of music that has delighted fans for over 40 years and the over 250 million albums sold by them worldwide over 40 years, is testimony of the stature of this great band.

"Crazy Diamond" is a tribute to Pink Floyd, by one of Africa's most talented guitarists Mel Botes in collaboration with veteran director Richard H Nosworthy. Botes is a multi-award winning songwriter and an exceptional guitarist, who has always acknowledged that Pink Floyd has had a big influence on his music career. Their influence on both his writing and style of playing, can be seen in Mel's original works; "David's Confession" (released in 1999 on CD,) and in "Flight of Bird" (released on CD in 2006). Stage and television director Richard Nosworthy, directed and Botes performed "Flight of Bird" to critical acclaim at Aardklop in the 2006, garnering a nomination for the Ashanti Award for best production.
"Crazy Diamond – A tribute to Pink Floyd" was launched at the Klein Karoo Nasionale Kunstefees in Oudtshoorn this year, and the standing ovations received at both performances were testimony to the quality and popularity of the production. The show covers a wide spectrum of Pink Floyd's music – the first half includes music from the band's first album The Piper at the Gates of Dawn (1967) and continues on a journey thru A Saucer Full of Secrets (1968), Ummagumma (1969) and Meddle (1971) to The Dark Side of the Moon (1973) and Wish You Were Here (1975). The second half starts off with the dramatic "In the Flesh" from The Wall (1979), and after working their way through nine other numbers from the hugely popular film and CD, the band play works from The Final Cut (1983), A Momentary Lapse of Reason (1987), and the last Pink Floyd album The Division Bell (1994).

Botes – lead guitar and vocals, is not alone in presenting this smorgasbord of high quality retro-music to both rock music lovers and die-hard Pink Floyd fans. He is ably supported by; Simon Orange – former keyboard player for the legendary Blues Broers, who features here on Hammond organ, piano and backing vocals, Jaconell Mouton – one of South Africa's top session musicians and regular face on the SABC 2 program Noot vir Noot, who plays keyboards and saxophone, master bass guitarist Denny Lalouette who has played with "almost-everybody-who-is-anybody" and drummer Theuns Botha, who has played with Heinz Winckler, Hugo, Christa Steyn & Jannie du Toit andMD Greyling amongst others, form the tight rhythm section, and they are all ably supported by the beautiful voices of backing vocalistsHanna Erasmus and Elaine Page.
"Crazy Diamond" tells the Pink Floyd story and pays tribute to original band member Syd Barrett. Barrett wrote lyrics about everyday things from a very personal perspective, and two songs have been included off his solo albums which highlight his unique talent. The show highlights the influence he has had on both the bands style of music and the lyrics they have written over the years. It also sheds light on the band's early influences, explains why their work often contains very long songs with elaborate free flowing solos, and discusses their innovative use of modern technology and Musique concrete. Ironically, relations between Roger Waters and the rest of the band effectively broke down by the time they were recording the last album that all four band members worked on, The Final Cut, and the band broke-up after recording only two more albums without Waters.
Pink Floyd is known for its elaborate concerts with big budget lighting rigs, visual effects and sound systems, and this production pays tribute to these too. There are specially produced supporting images which are projected onto screens and a voice over guides the audience through the years as the music takes them through the time-warp that is Pink Floyd's music.
Bookings essential
Contact Callie or Melissa / Kontak Callie of Melissa.
Skakel of mail ons gerus oor alle show navrae.
Tel. : 042 293 2500
E-mail : bookings@pottersplace.co.za
Adres / Address :
Hoek van Oosterland & St Francis Straat, Jeffreysbaai
Corner of Oosterland & St Francis Street, Jeffreys Bay
Fees : R120 pp
Event Categories: Events.