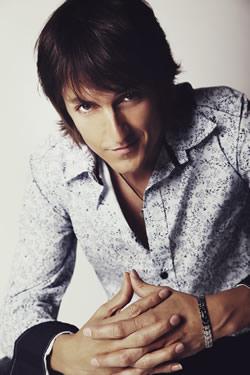 The infinitely versatile Chris Chameleon has already made his mark in many fields in the South African entertainment industry. With his repertoire in film, television, writing, music and composition across a landscape of genres aptly as multifaceted as this country's scenery and culture, and the acclaim he has earned in all these disciplines, it stands to reason that any opportunity to attend one of his shows is a non-negotiable must.
His four octave voice, sharp humour, eloquently expressed social conscience and warm, humanistic approach invariably send the audience home with a smile, hope for the future and a rejuvenated appreciation for the beauty of life – though not before he has had them in stitches, tears and the palm of his hand for the duration of his show!
~~
Die oneindig veelsydige Chris Chameleon het reeds sy merk gemaak in vele velde van die Suid-Afrikaanse vermaaklikheidswese. Met sy repertoire in film, televisie, skryf, musiek en komposisie oor 'n landskap van genres so breed soos die natuur en kultuur van sy land wat hy duidelik diep liefhet asook die erkenning wat hy in al hierdie rigtings verwerf het, is dit vanselfsprekend dat enige geleentheid om een van sy vertonings by te woon 'n ononderhandelbare noodsaaklikheid is.
Sy vier oktaaf stem, skerp humor, weldeurdagte -en uitgesproke sosiale bewussyn en warm, menslike benadering stuur sonder uitsondering sy gehoor huistoe met n glimlag, hoop vir die toekoms en n verkwikte waardering vir die skoonheid van die lewe – hoewel, nie voordat hy hulle eers laat lag, huil en terugleun het in die palm vansy hand vir die duur van sy vertoning nie!
Bookings essential
Contact Callie or Melissa / Kontak Callie of Melissa.
Skakel of mail ons gerus oor alle show navrae.
Tel. : 042 293 2500
E-mail : bookings@pottersplace.co.za
Adres / Address :
Hoek van Oosterland & St Francis Straat, Jeffreysbaai
Corner of Oosterland & St Francis Street, Jeffreys Bay
Fees : R135 pp
Event Categories: Events.