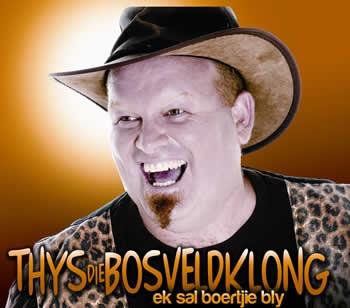 Thys die Bosveldklong se 13e album Ek sal boertjie bly "is sommer net 'n ietsie om die game te kyk", vertel hy. Dis prettige, stuitige vermaak!
Thys die Bosveldklong vermaak mense nou al dertien jaar lank met sy eiesoortige humormusiek.
Op sy dertiende album Ek sal boertjie bly (sy eerste by Select-Musiek) bied hy oudergewoonte die regte lagmedisyne vir al daardie skete en pyne wat die lewe soms ondraaglik maak.
'n Span behendige liedjieskrywers – Anton Myburgh, Leon Beukes, Ben Beukes, Reinhardt Venter en Prop van Rooyen – het die allerheerlikste musiekgenot geskep.
Gertrou aan Thys se fyn waarnemingsvermoë, skuil daar dikwels slim satire in die lirieke.
Naas die talle dans- en braaitreffers hierop, kry die luisteroor ook 'n tikke erns. Tussen die toonvenstersnitte is die roerende liedjie Ek droom vir jou, wat Thys aan sy seuntjie opdra. Saam met Wicus van der Merwe bied hy die pragduet Namakwaland se son, ter nagedagtenis aan die onslape musiekvriend Zak van Niekerk.
Tussen die ritmelekkertes is die keurspel waarin Thys se vorige treffers – Ma sê pa sê, In die middel – Hou nie van werk nie – Jaloersbokkie en Vet pret verpak word.
Kry – en laat die game begin!
Bookings essential
If you have any inquiries regarding the shows, don't hesitate to email or phone us.
Skakel of mail ons gerus oor alle show navrae.
Tel. : 042 293 2500
E-mail : bookings@pottersplace.co.za
Fees : R100.00 p p
Event Categories: Events.