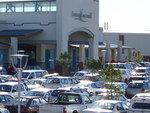 Visit Fountains Mall for the best in shopping and entertainment!
From arts & crafts, clothing and household décor to food and general merchandise, Fountains Mall offers it all.

Dischem, Quiksilver, American Swiss, Markhams, Wimpy, Truworths, Cape Union Mart, Mr Price, Edgars, Pick 'n Pay, Woolworths, Mr Price Home, Sheet Street, CNA, Game, Crazy 'bout Birds, Global Junction, Coffee Co., Ocean Basket, Out of the Blue, Bargain Books, K-Janes, Ackermans, Clicks, FNB, Gabriel Jewellers, GRM Music, Toy Magic, PEP, McDonalds
Related Listing
Established in Jeffreys Bay in 1998, Plancad Architecture & Interior Design offers professional ...

Hand crafted aromatherapy / soy wax and beautiful gift candles. We also stock handmade bath salts ...

Jewellery & Watchmaker: Fossil watches , Casio , Police, Jewellery and Watches Repair, ...