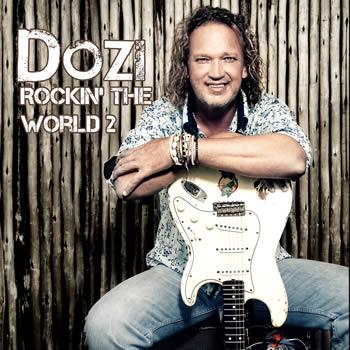 Dozi's previous compilation-album Rockin' the World 1 was such a big hit with young and old that he recently decided it is time for a hot follow-up album – Rockin' the World 2!
This popular singer with the husky voice revives eighteen oldies and puts his distinctive stamp on each of the songs. With hits like December '63 – Oh What A Night, Glory Days, Sweet Home Alabama, Sylvia's Mother, Still The Same, Radar Love, Long Cool Woman, One Man Band and an up tempo Shakin Steven's medley, Dozi succeeds in creating the perfect party vibe.
Dozi says he handpicked all these evergreen hits for his thirteenth album.
"These are all songs I mostly played in pubs and music people request on a regular basis at my concerts. Fourth of July is the only new song on the album," he adds.
All the songs are a good mix of all the 'veterans' in the music industry – including the likes of Cat Stevens, Rod Stewart, Nazareth, Dr. Hook and The Medicine Man, Golden Earring and Shakin' Stevens. Dozi's husky voice compliments all these legendary artists' music and is a guarantee to be a hit at any party or sokkie.
Bookings essential
If you have any inquiries regarding the shows, don't hesitate to email or phone us.
Skakel of mail ons gerus oor alle show navrae.
Tel. : 042 293 2500 
E-mail : bookings@pottersplace.co.za
Fees : R 100.00 p p
Event Categories: Events.