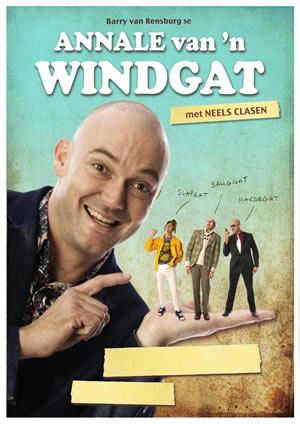 Dis kraakvars, dis eg (Suid-)Afrikaans, dis skreeusnaaks, dis pitkos, dit het gekom om te bly – dis Annale van 'n Windgat.
Hierdie eenman komedie handel oor persoonlikheidstipes en kommunikasie-style. Die play werk met die 4 basiese persoonlikhede soos dit deur die eeue uitgekristalliseer het, maar gee hulle nuwe name: daar's banggatte (die analiseerders), hardegatte (die 'drivers') , slapgatte (die sosialiseerders) en windgatte (die 'band leaders').
Die krag van die play lê daarin dat teatergangers hulleself herken (hulle sien hul gatte!) en kan identifiseer met die persone en situasies wat uitgebeeld word. Dis lag-sonder-wag met diepte. Almal wat die play sien, dink en praat vir weke oor die show en die implikasies daarvan.
Die wonderlike woord 'gat' word deurgaans in sy idiomatiese sin en as metafoor vir 'persoonlikheid gebruik'. Annale van 'n Windgat bewys dat ons in ons mooi taal bitter snaaks kan wees sonder kras taal of vloekwoorde.
Lizz Meiring sê: "Dis slimsnaaks, vars en perfekte vermaak vir almal."
Bookings essential
If you have any inquiries regarding the shows, don't hesitate to email or phone us.
Skakel of mail ons gerus oor alle show navrae.
Tel. : 042 293 2500
E-mail : bookings@pottersplace.co.za
Fees : R100 p p
Event Categories: Events.