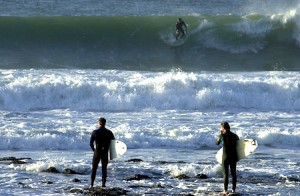 Over 120 international surfers have entered the 2012 Billabong Pro J-Bay, and the event has a full house of 144 entries. Thirteen of the top 32 surfers in the world have entered, as well as the majority of South Africa's top competitors.
International surfers include the likes of John John Florence, Kolohe Andino, Adam Melling and Mark Occhilupo who won the event back in 1984, as well as Adriano de Souza and the Hobgood brothers CJ and Damien.
The local contingent includes seasoned campaigner Travis Logie, two times and defending champion Jordy Smith, as well as South African stalwarts Royden Bryson and Davey Weare.
"I'm totally pumped to surf Supers in an event again," said Davey. "I love the wave, and spent so much time surfing there when I was growing up. The last time I surfed an event at Supers was a WCT event in 2009. I haven't been competing that much this year, but the Billabong Pro J-Bay will be my third event for the year, so I am hoping for a big result."
ASP Africa Operations Manager Colin Fitch was excited about the entries into the event.
"One hundred and sixty five surfers wanting to be at the 2012 Billabong Pro J-Bay is awesome," said Colin, when entries closed last night. "Who would have believed the response we have got from professional surfers around the globe. Some are willing to be here just to surf the one event. There are 125 International and 40 South Africans wanting to surf one of the best 10 surf breaks in the world."
There is however, a limit to the number of surfers who can compete in the event.
"With the field set at 144 there will be 21 surfers who may have to sit and watch the event from the beach," added Fitch. "I hope J-Bay is ready to host the biggest contingent of international surfers ever witnessed in the town since professional competitive surfing started here in 1981."
Colin's role in ASP Africa sees him able to objectively compare similar such events around the world, and he added, "This may just be the most successful 6 Star Men's event on the 2012 ASP World Tour."
The Billabong Pro J-Bay is set to run 10-15 July and is a 6 Star Men's event on the ASP World Tour.